2-in-1 Kids Drum Set, Electronic Toy Drum Kit with Music and Songs, Micr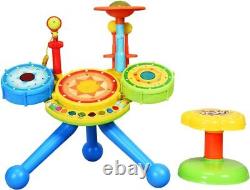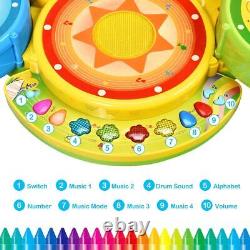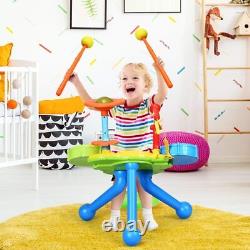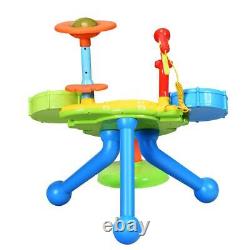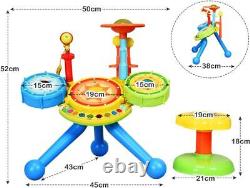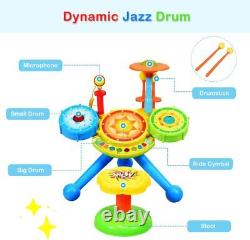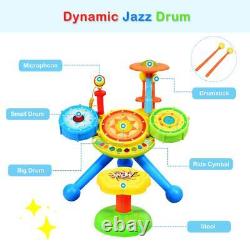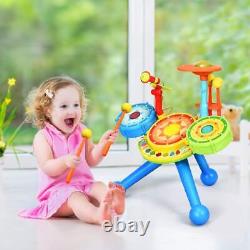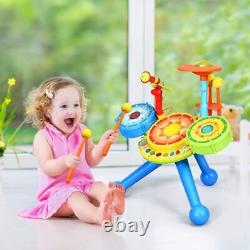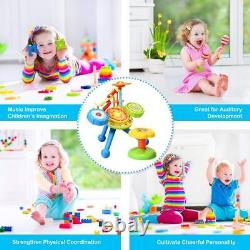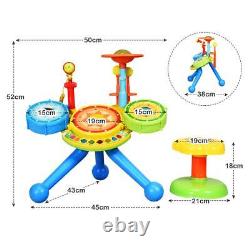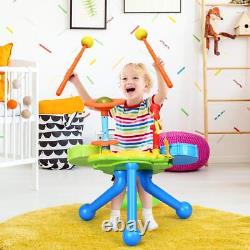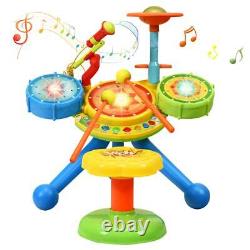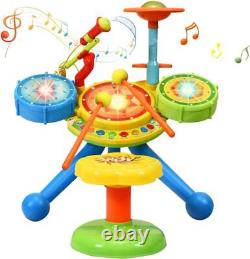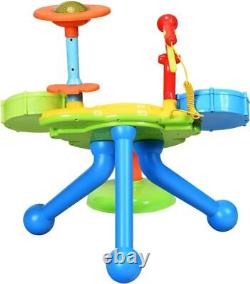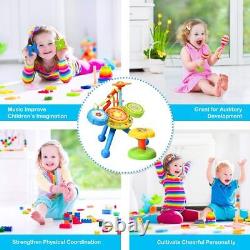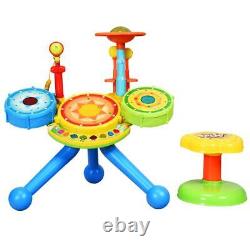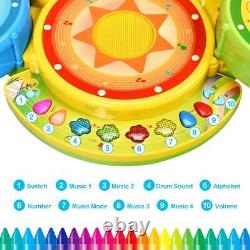 Our toddler jazz drums are suitable for children over 36 months. The drum set is furnished in bright colors that will create a positive atmosphere and attract children right out of the box. Colorful lights and rhythmic music can fully attract children's attention and open up a new world for children. This kids drum set includes everything kids need to bang out tunes and make exciting musical experience. We provide drums and cymbal that will send out different sounds, and high quality microphone allowing children to discover their talents in singing.
There is also a volume adjustment button on the jazz drum, which makes convenient for controlling the volume. Toy drums and stools are smooth and won't hurt children's tender skin.
The bottom of jazz drum is designed with triangle, which can support jazz drum stably and prevent it from collapse suddenly. When children get tired, it will transform into rest mode and saying "Let's play the game soon, bye-bye". In addition to entertainment, our childrens drum kit also have the function of alphabetical pronunciation, which can switch freely between English and Spanish.
Just pressing the button, the drum will play background music and the main panel will flash and read the alphabet (A-Z) and number (1-30). Our electronic jazz drum set allows your children to acquire knowledge and broaden their horizons while playing.
Perfect Gift for Budding Musicians? Introduce little ones to musical instruments to encourage audio recognition and musical development at an early age. The set is equipped with 10 songs in music mode, with tons of wacky effects, music and learning numbers and ABCs. Plus, they can grab the microphone and jam their favorite songs out or make up their own! Details: Description: Do you want to encourage your children to release their creativity? This amazing set of toy drums is exactly what you need!
Our jazz drum is designed for babies over 36 months old. With ABS material, you can let your children use it safely.
Jazz drums have many bright colors, which can stimulate children's curiosity about color. Most importantly, when playing music, drums will flash lights of different colors to attract children's attention.
In addition, children can wave drumsticks and knock out wonderful music. Additional stools allow children to sit comfortably and enjoy hours of music. This is an intelligent toy, not only can play, but also can improve the children's ability to use their hands and brains. Features: ABS material makes it safer to use Jazz drums enable children to stimulate their learning ability Bilingual switch - learn numbers and ABC in English or Spanish The height of Jazz drums and stool are low and suitable for children Knocking jazz drums helps improve children's sensory development The whole product is designed smoothly without scratching the child Design of jazz drum bracket makes full use of triangular stability principle Volume adjustment buttons allow your child to use them in any environment Specifications: Material: ABS Net Weight: 1.5kg Stool Weight Capacity: 40kg Stool Size: 21 x 18cm (f x H) Overall Size: 50 x 38 x 52cm (L x W x H) Package Includes: 1 X Jazz Drum 1 X Stool 1 X Microphone Note: WE ARE SO SORRY THAT PLEASE KINDLY KNOW THAT WE DON'T HAVE COURIERS SERVICE OF FOLLOWING AREAS: CHANNEL ISLANDS (SUCH AS JERSEY AND GUERNSEY), ISLE OF MAN, SCILLY ISLES, SCOTTISH ISLANDS, PO BOX!