2Box Drumit 5 electronic drum kit expanded with Roland TD3 Koby etc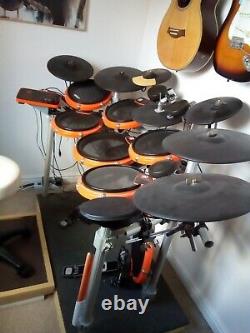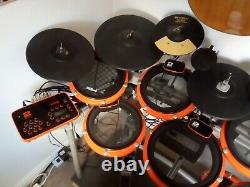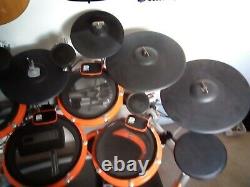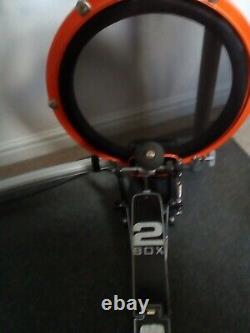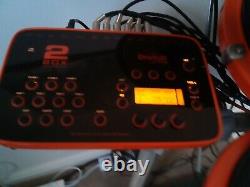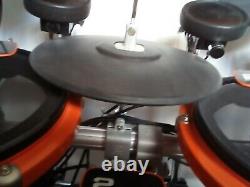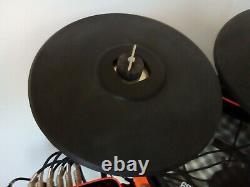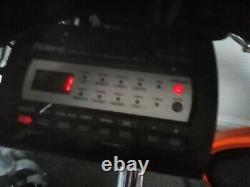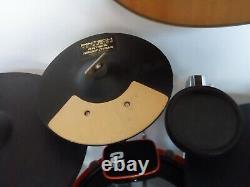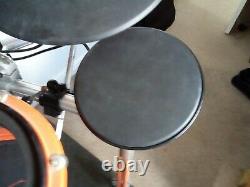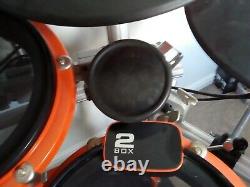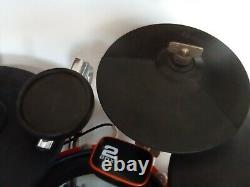 2Box Drumit 5 electronic drum kit expanded with Roland TD3 Koby etc. For sale here is an expanded 2Box Drumit 5 electronic drum kit, with a number of additional pads and a Roland TD3 module for additional trigger inputs and sounds. I bought it in various lots second hand so I cannot vouch for its entire life, but since I've had it's been played (rarely) at home, and never gigged. Functionally, I believe it is all working 100%, but cosmetically there are some scratches on racks and the orange backs of cymbals (a common problem). There are a couple of clamps where'proper' drum screws have been replaced by nuts and bolts, and a couple of the mesh head have'snags / pulls' in them (but still play and trigger fine).
I have modified the HiHat to separate the pad from the foot controller (so that you can position the pad wherever you want). I don't have the original snare drum stand as I preferred to mount the snare pad on the rack (and some of the clamps have longer'L arms' to help with this). I also cut one of the 60cm curved horizontal side arms in half and used one each side (at 30cm) - I found this was enough and reduced the kit footprint slightly.
There are other rack tubes in the'other' section so you could have 60cm each side if you needed it (although one of them would be silver and not grey) I expanded the 2Box kit with additional pads, and then bought a TD3 as an auxiliary trigger for even more pads/cymbals. If someone wants the entire kit, then great.
2Box o 3 x 14" Cymbals o 1 x 12" HiHat (modified) o 1 x 12" Cymbal (modified HiHat) o 5 x 10" Pads o 1 x 12" Pad o 1 x 16" Kick o Kick Pedal with'rubber ball' beater (alternative felt/plastic beater also included) o Drumit 5 with 32Gb SD Card Modification and 2Box PSU o Rack? 2 x 90cm Curved Horizontals? 1 x 60s Curved Horizontal? 2 x 30cm Curved Horizontals?
6 x Pad mounts (clamp and hex rod)? 3 x Cymbal mounts (clamp and hex arm)? 2 x Modified Cymbal mounts (clamp and bolt)?
1 x Kick drum mount and clamp? HiHat Stand and clamp (modified)?
1 x custom Drumit5 mount (plastic)? 1 x custom stick holder o Cables? Other o Roland TD3 Brain and generic PSU o 1 x 7½" HD1 Rubber Pad (single zone) o 1 x 10" CY-5 Cymbal (single zone) o 1 x 8" Pintech TC Splash (single zone) o 3 x 4" Koby Nano Pads (single zone) o Rack? 1 x 40cm straight pipe (silver)?
1 x 60cm curved pipe (silver)? 4 x Clamps for cymbal/tom arms (2 x Dixon, 2 unnamed)? 3 x Pearl type tom mounts (for Koby pads)?
1 x Alesis T clamp (plastic)? 1 x TD3 Mount (plastic)? 4 x adjustable pipe connectors (and 2 small lengths of tube) o Cables?
5 x 100cm Right Angle TRS? 3 x 130cm Jack to Mini Jack TS (for the Koby pads) It is difficult to put a price on this, as it is a large collection of items (and will be worth different values to different people). I will consider best offers (as long as they are reasonable). If someone wanted the 2Box items without the'Other' items listed above then I would consider that.
Please state clearly in your best of if that is what you want to do. Collection would obviously be the cheapest option, but is difficult in the current times. The kit is not currently assembled and I don't have room to set it up. Collection (respecting all Covid guidelines) would be considered. The entire kit parts are currently in 2 heavy (15kg) boxes, plus the rack arms are packed separately.
If you have any questions about this kit please message me. The item "2Box Drumit 5 electronic drum kit expanded with Roland TD3 Koby etc" is in sale since Wednesday, January 27, 2021. This item is in the category "Musical Instruments\Percussion\Drums\Drum Kits". The seller is "paulf707" and is located in Andover. This item can be shipped to United Kingdom.
Brand: 2Box
Type: Electronic Drum Kits
Product Line: Drumit 5
Items Included: Pedal