Alesis Crimson II SE Electronic Drum Kit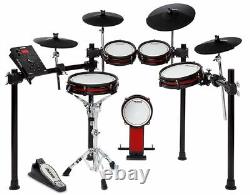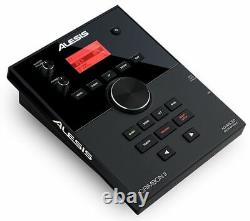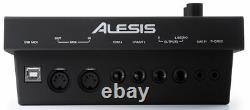 The Alesis Crimson II Special Edition is a high-performance nine-piece electronic drum kit with an intuitive feel and natural response. Featuring durable mesh heads, top-quality hardware and a vast library of premium sounds and features, the Crimson II SE delivers on all fronts and provides everything a drummer needs.
This amazing kit comes with an 8" kick, 12" dual-zone snare, two 8" dual-zone rack toms and a 10" dual-zone floor tom. You will also receive a 12" hi-hat with pedal, two 12" crashes with choke and a 14 triple-zone ride. A premium-quality quick-lock 4-post steel rack and an independent double-braced snare stand offer first-class stability, and a dependable Alesis cable snake makes setup a breeze.
The Crimson II SE's five-piece pad set features Alesis' brilliant next-gen mesh heads that respond just like the real thing and they are designed to give off minimal acoustic noise - ideal for home practice sessions that won't irritate the neighbours. The Drum Module comes packed with 74 drum kits (54 factory + 20 user) comprising over 671 hi-def sounds. There are also 99 user banks that let you store your own loaded. WAV samples so you can really personalise your kit and make it sound unique. Samples can be loaded via the Crimson II SE's USB memory stick input and easily assigned to specific zones on any of the pads.
And if the 120 onboard play-along tracks aren't enough for you, you can also load in. WAV files of your own. The Alesis Crimson II SE Drum Kit also features a built-in metronome, real-time recorder, and?
Input for your mobile device, so you'll be primed with accompaniment and ready for any performance. There is also a stereo pair of ¼ outputs, headphone output, and a USB-MIDI output for triggering your favourite virtual instrument plugins.
White mesh drum heads for enhanced feel and playing response. Five-piece pad set with 8/8/10" dual-zone toms, 12" dual-zone snare, and 8 Kick. Four-piece cymbal set with 12" hi-hat, (2)12" crashes with choke and 14 triple-zone ride. Crimson II drum module with 74 kits (54 factory + 20 user) and 671 sounds. MP3 samples and play-along tracks via USB memory stick.
Real-time recording (5 tracks internally; up to 99 tracks via USB memory stick). USB/MIDI output for use with virtual instrument and recording software. Premium 4-post quick-lock steel rack with double-braced snare stand.
All connection cables, mounting hardware and power supply included.