Alesis Nitro Max Electronic Drum Kit with Expansion Pack, Stool and Headphones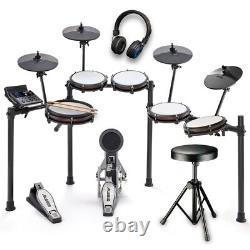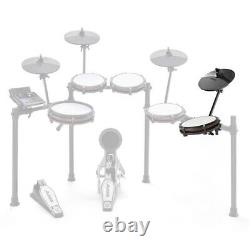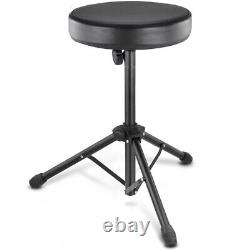 This package contains the following items. 1 x Alesis Nitro Max Kit.
1 x Alesis Nitro Max Expansion Pack. 1 x AVSL Drum Throne. Nitro Max Kit Eight-Piece Electronic Drum Kit with Mesh Heads & Bluetooth. The Alesis Nitro Max is an electronic drum kit featuring highly responsive mesh drumhead technology. Alesis mesh drumheads lead the way for natural, responsive electronic drum performance that enables accurate playing while maintaining a quiet environment, suitable for home use. It features a 10" dual-zone snare drum for dynamic play, (3) 8" toms, (3) 10 cymbals, A kick drum tower, as well as kick and hi-hat pedals, plus the necessary cabling, a rock solid rack stand, sticks and drum key. Elevate your drumming by adding an additional drum and cymbal to your Nitro Max Kit with this matching expansion pack. The Nitro Max Expansion Pack fits your kit perfectly, offers seamless plug in-and-play compatibility and includes all the connectors and mounting hardware you need. A comfortable and durable drum throne. These on ear headphones have padded cups for added comfort. They're both lightweight and foldable for ease of transport.