Aroma TDX-25ii Pro Digital Drum Kit with Mesh Heads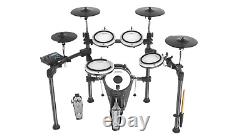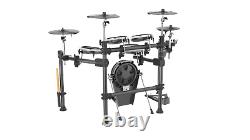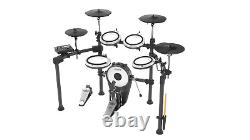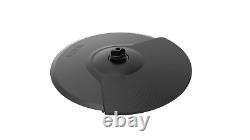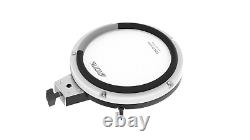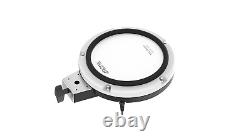 Aroma TDX-25ii Pro Digital Drum Kit with Mesh Heads. Made of full mesh material, aluminum alloy pressure surface, and silicone edging, it is simple and elegant, with even stress points and comfortable and accurate feedback on the percussion force. The drum stand has a wrap-around expansion design with manually adjustable knobs.
Combined with ergonomic engineering for a good experience. The electric drum bracket is made of a strong and durable metal material.
Rod thickness 38mm, rod wall thickness 1mm. Full silicone cymbal design, good impact feel, environmentally friendly material, three-trigger ride design, grab cymbal stops sound. Grab cymbal stops sound, universal head connecting rod design, the angle of each cymbal can be adjusted as needed. A total of 600 sounds, including rock and jazz, suitable for all kinds of music. Quickly adjust the tempo and choose the beat.
Feel free to play, 28 drum sets, 600 sounds, rock jazz, funk, metal, suitable for all major current mainstream music. Recording practice, built-in 43 accompaniments, performance recordings can be saved.
· Standard configuration: 5 drums and 3 cymbals · 8-inch mesh snare drum double trigger. · Bass drum independent pedal hi-hat, silicone surface · Toms T1, T2, and T3 are 6-inch mesh single trigger. · Climb cymbal 10.5-inch semi-silicone dual trigger·Ring cymbal10.5-inch semi-silicone dual trigger. ·A total of 350 sounds. ·512m sound source, editable drum kit sounds.
·Support usb MIDI 6.35MM audio output. Standard 5 drums + 4 cymbals.
Snare drum - 8 inch, mesh, double triggers. Bass drum - 10 inch, mesh, mechanical drum pedal and pad. Tom drums - T1, T2, T3 7 inch, mesh. Crashes - 11 inch, half silicone, double triggers mute function. Ride - 11 inch, half silicone, three triggers mute function. Hi hat - half silicone. New 1G sound source, available to edit drum set and each set adjustable. 28 preset drum sets · Total 600 sounds optional.
· 43 coach music · Metronome. We aim to despatch all orders within 24 hours, (excluding UK bank holidays and weekends). Large orders via Parcelforce Ireland 24. This guarantee does not apply to items misused or fair wear & tear.
Join our exclusive newsletter for up-to date news, special offers and new arrivals. Get in touch with us.