ATV EXS-3CY Electronic Drum Kit (NEW)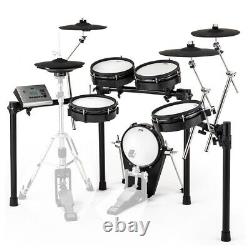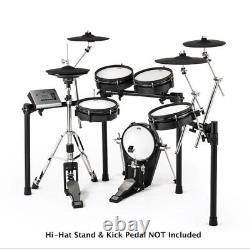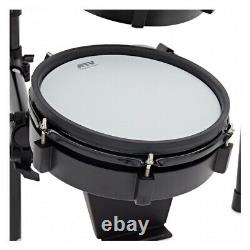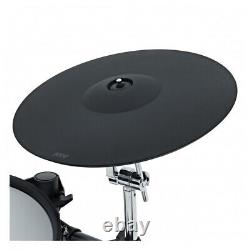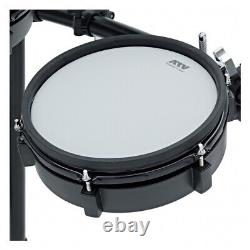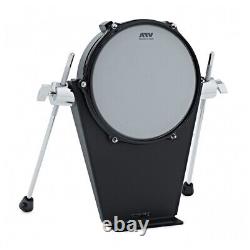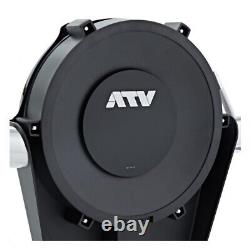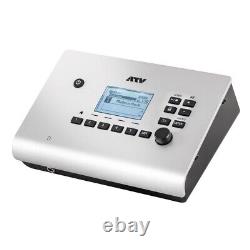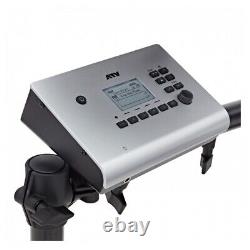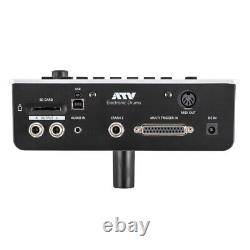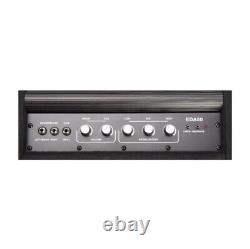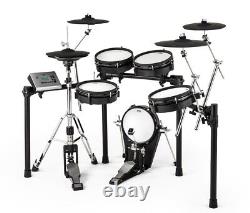 ATV EXS-3CY Electronic Drum Kit (NEW). The ATV EXS-3CY is a compact electronic kit that features all the essential drums and cymbals that you need to play expressively in any situation. This space-saving set is ideal for those players who need a high-quality second kit at home for practice and recording.
With the xD3 sound module included, you'll have access to a great variety of richly detailed, realistic instrument sounds that will bring you countless hours of playing pleasure. More Freedom Of Motion For Cymbals. The cymbals can be played and choked anywhere around their full circumference, eliminating the need for rotation stoppers that inhibit natural cymbal motion. Simply place the cymbal on the stand and see how the newly designed pivot allows it to swing naturally in all directions. The innovative design replicates other natural details as well, such as how the whole cymbal flexes and wobbles when its thin tapered edge is struck.
The silicone playing surface not only feels great, but also provides excellent silencing characteristics. All these design details work together to create a playing experience similar to that of an acoustic cymbal. When playing the balance between an open and closed hi-hat sound is subtly controlled by the foot. Conventional electronic hi-hat designs typically use contact-type sensors to detect foot pedal motion, but these mechanical designs are limited in their precision and tracking capability. Solving this problem, the EXS series hi-hat utilizes a completely optical sensor to provide high-precision sensing that won't lag even when the hi-hat is opened and closed rapidly.
Newly Developed Sensors & Two-Layer Drum Heads. ATV drums utilize a durable and sensitive two-layer mesh head. No matter the playing style, the wide dynamic range of your EXS series drums will fill you with confidence. The EXS series is capable of capturing the full dynamic range of your performance from ghost notes to powerful rim shots, accurately translating your playing into an expressive natural sounding performance. This consistency is possible because of a new, patented, multi-sensor design for the snare drum and toms that completely eliminates the problem of hotspots.
A Kick That Supports The Groove. The ideal kick drum combines sensitivity to ensure fast, precise triggering, with stability that gives a natural feeling of feedback.
Our 13" and 10" mesh head kick pad designs achieve a great balance of damping and sensitivity. This ensures a rock-solid, fast-triggering kick that will anchor your groove. If you were using a double pedal, the stability and sensitivity of the kick drum will allow you to flawlessly play fast patterns. With the EXS series kick drum, you'll never miss a beat!
XD3 Drums Sound Module Features. The xD3 sound module enables drummers of all levels to fully express their dynamics and groove.
All performers desire the means to support their freedom of expression when playing an incredible sounding instrument - so they can fully experience the dynamic range of a kick drum, the subtle timbres of a snare, and the natural coloured resonances of each cymbal. When capturing instrument sounds in the studio, ATV focused on every detail; mic placement, the position of the drummer's ear, ambient sound that includes room reflections, and imaging - including the positioning of hi-hats on the left and the floor tom on the right of the stereo field; each aspect translates to a sonic detail that combines to support the drummer's realistic sound experience. Triggering Response That Elicits The Drummer's Sense Of Groove.
The most important criterion of great playability is hearing the sound at the instant you strike. For drummers, who unconsciously control their timing in milliseconds, any lag in triggering will impair the groove. Also, identical instruments played by different drummers produce contrasting musical expressions. This is because of subtle differences in'groove' (rhythmic feel).
So for the xD3, ATV developed a new process that implements high-speed trigger analysis and low-latency sound production, thereby ensuring an unrivalled performance response and feel sensitivity. By means of proprietary technology, uncompressed audio data containing an enormous amount of sonic information sounds at nearly the same instant as the strike, producing a clear expression of a drummer's individual groove and touch. Realizing The True Dynamic Range Of Drums.
Until now, players have had to accept that the dynamic range of electronic drums will frequently'top out'. While this has allowed almost anyone to play electronic drums and produce a stable sounding performance, it has also exposed the electronic character of the drum set and held players back from achieving the natural, richly varied sounds we associate with acoustic drums. So for the xD3, ATV developed a new sound engine specifically for drums in order to technically realize a full expression of the complete dynamic range, from delicate pianississimo (ppp) to intense fortississimo (fff).
Audio material recorded in the range of ppp through fff is therefore accurately sounded according to the drummer's striking strength. Even when a roll is played, this sound engine reproduces a naturally-connected roll rather than a mere mechanical succession of sounds. The xD3's cymbal sounds fully reproduce the natural signatures of resonance and reverberation patterns captured in hi-definition studio recordings of acoustic cymbals.
ATV's approach fundamentally contrasts the conventional use of data-saving DSP processes used in other modules, which add artificial reverberation and utilize synthesis techniques to sequence, loop and attenuate parts of the envelope of a dry recorded sound. Just listen carefully to a cymbal sound generated by the xD3 and you will experience in vivid, natural detail the real reverberation and decay patterns that only acoustic cymbals can produce. This is possible because they record the full decay time (attenuation) of a cymbal's sound in stereo without applying any compression. The xD3 accurately outputs the natural envelope of the cymbal sound as it was played and recorded. Try it and you'll discover how the natural decay and spatial reverberation of these cymbals give you that depth of tone to support subtle playing on slower songs with longer rests and time spaces. The Realism Of Performing With High-Resolution Sound. The sound sources built into the xD3 represent modern and vintage instruments in peak condition, tuned perfectly, and played by drummers intimately familiar with their sounds. Instruments are recorded in the best studios using boutique and custom equipment, all sampled using proprietary sampling technology and with expert know-how. Under these ideal conditions, all material is recorded in stereo at high resolution in order to capture every detail of the instrument's natural resonance and spatial qualities. These high-quality instrument sounds are included in the xD3 as uncompressed audio data with minimal adjustments, ensuring the original sounds are not compromised in any way.
Setup Functions To Optimize Performance. The xD3 can store and recall the setup parameters that have been adjusted to suit the playing style of individual drummers. You can not only adjust the sensitivity of each drum and cymbal sensor to give a desired expressive response and comfortable play feel, but you can also eliminate cross-talk and set up a rim shot sound for the snare drum. User setup data files can be stored in the xD3 itself or on an SD card. A Metronome Tool To Visualize Timing Accuracy.
Using the metronome functions of the xD3, you can visually monitor the accuracy of your timing; a real-time judgment that is difficult for many drummers to make when playing. When you play with the metronome function activated, the strength of your strikes and their timings are displayed on the LCD screen. Using this tool, you can play through your regular practice routine while objectively analyzing and adjusting your performance. The metronome tone, volume, bpm, beat division, plus a crash cymbal cue to start, can all be selected and adjusted.
Includes Five Different High-Quality Drum Kits. Each drum kit stored in the xD3 is constructed from the hi-definition, richly detailed sound recordings of real acoustic drums and cymbals. Try them and you'll experience the mature sounds of vintage cymbals, the vivid tonal colours of snare drums, and the deep resonance of toms. Each sound, including the bass drum, conveys its own sense of spatial distance and room reverberation, thereby giving the player the possibility to truly feel that powerful fortissimo attack; a sensation that convinces you that you are really playing'the sounds of acoustic drums'. The realism of the xD3 and EXS series experience goes way beyond the limits of conventional sound design approaches based on'monaural sound sources + reverberation'.
Song Functions For Practice And Performance. The xD3 supports your broader musical development by including song functions that allow you to practice and perform over high quality backing tracks composed by professional musicians. Using the song function, you can practice different grooves and rhythms over a great variety of backing tracks covering popular genres such as rock, pop, funk, and jazz.
When playing a song you can also use the marker and loop functions to enable you to repeatedly practice any section of the song you set; a great tool when you want to work on weaker parts of your performance. A Recording Function To Record And Check Performances.
It is important for any drummer to be able to listen back objectively to their own performance. To support this need, the xD3 includes a recording function that allows you to record your performance over a backing track and the metronome. Recording can be set up to automatically and simultaneously start with the first stroke of your performance; a useful feature that ensures you can concentrate on performing without having to execute tricky button operations. This function can be also enabled by pushing the PLAY button on the xD3. Kick drum pedal, hi-hat stand, and drum throne are not included.
This item is in the category "Musical Instruments & DJ Equipment\Percussion\Drums\Drum Kits". The seller is "rinsh-13" and is located in this country: GB. This item can be shipped to United Kingdom.
Brand: ATV
Type: Electronic Drum Kit
Items Included: Hi-Hat, Sound Module: xD3 Silver, Kick Drum, Snare Drum, Tom, Crash Cymbal, Ride Cymbal, Drim Key
Model: EXS-3CY
MPN: EXS-3 CY
EAN: 0190210000669