Carlsbro CSD35M 9-Piece Electronic Mesh Head Drum Kit with Commander 25 Sound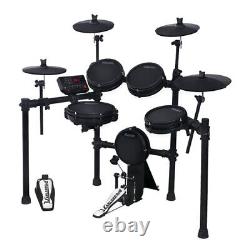 Carlsbro CSD35M 9-Piece Electronic Mesh Head Drum Kit. Carlsbro - CSD35M 9-Piece Electronic Mesh Head Drum Kit with Commander 25 Sound Module. The Carlsbro CSD35M electronic drum kit is made up of 3x 10" cymbals and 1x 12" cymbal with an advanced noise reducing soft touch rubber padding. Each Crash cymbal and ride cymbal include a cymbal choke feature.
The 12 ride features dual zone triggering giving you defined regions for ride bow and ride bell. 1×10" and 3x 8" mesh drum pads feature dual zone rim and main pad triggers, together with refined real mesh heads, and low-profile drum rims, designed to improve accuracy and reduce noise from unwanted rim shots.
Carefully designed sensor technology alleviates dead spots around the playing surface, creating a realistic and natural feel. The CSD35M includes an 8 mesh bass pad and Carlsbro kick pedal, and an aluminium lightweight, durable hi-hat control pedal with our noise reducing technology. The fully adjustable drum frame allows for unlimited configuration and positioning versatility to meet the needs of drummers any age and size.
Quickly and easily convertible to suit left-handed drummers and any possible configuration that you could imagine. The frame is Preassembled, so the setup process is quick and painless. Every adjustment is made easily with hand fastening wing nuts and a single drum key (included), so no additional tools are required.
CSD35M Specs Features Specification Sound Module 1 x Commander 25 sound module Snare 1 x 10" mesh dual-zone snare pad Toms 3 x 8" mesh dual-zone tom pads Cymbals 1 x 12" dual-zone ride cymbal with choke 1 x 10" hi-hat cymbal 2 x 10" crash cymbals with choke Kick/Pedals 1 x 8" bass pad and kick pedal 1 x Hi-hat control pedal Drum Rack 1 x Fully adjustable 4-legged drum rack Extras 1 x Pair of drumsticks with drumstick holder 1 x Wiring loom 1 x Crash 2 cable 1x Drumkey 1x Product manual Commander 25 Specs Features Specifications Voices 320 high quality voices Preset Kits 22 preset drum kits User Kits 10 user defined drum kits Backing Tracks 20 backing tracks Saved Recording 3 drum recording save slots Effects Reverb Adjustable Extras Adjustable metronome, adjustable voices and adjustable pad settings Inputs/Outputs USB MIDU in/out, USB audio, 2x headphone outputs, stereo output, aux input. 1 x 6.35mm (1/4) Jack 1 x MIDI In 1 x USB. 2 x Crash 1 x Hi Hats 1 x Kick 1 x Rides 1 x Snare 3 x Toms.
2 x Headphone (6.35mm Stereo Jack) 1 x MIDI Out.