Electric Air Drum Set Air Drum Sticks Air Drum with Drumsticks, Pedals. K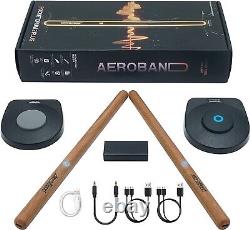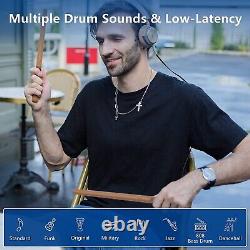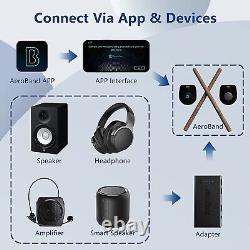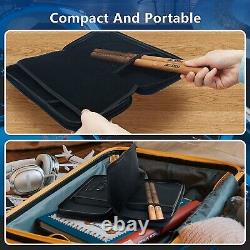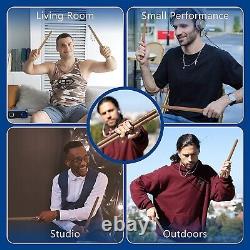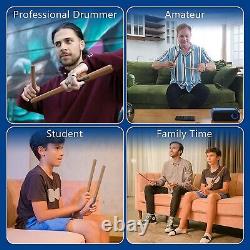 AeroBand Electric Air Drum Set Air Drum Sticks, Air Drum with Drumsticks, Pedals, Bluetooth and 8 Sounds, USB MIDI Function, Electronic Drum Set for Adults, Kids, Professionals, Gift. What Does AeroBand PocketDrum 2 Plus Do?
Upgrade to the PocketDrum 2 PLUS version for an unparalleled drumming experience. With ultra-low latency of less than 6ms, you'll feel like you're playing in a live band. Our bluetooth adapter allows professional drummers to play without constraints, and our new foot pedal boasts a more user-friendly design with even lower latency.
With PocketDrum PLUS, you can connect to the Bluetooth adapter and play without an app, making it more convenient than ever to use. The Ways of the Connection for the PocketDrum 2 Plus. Power on the air drumsticks and the pedals, and connect drum sticks and pedals via bluetooth in the AeroBand App.
Calibrate drumsticks and enjoy Drumming in different App modes. Power on the adapter and connect the adapter through "Line Out"port to a Speaker or Headphone AUX port. Power on the air drumsticks and the pedals, connect to adapter via bluetooth. Calibrate drumsticks and enjoy drumming freely.
Power on the adapter and connect it into a speaker AUX port. Power on the air drumsticks and the pedals, connect to adapter bluetooth.
MIDI Function for Music Creation. It would be attractive to you if you are a music creator or enthusiast as the PocktDrum 2 Plus features MIDI function. You connect the adapter via USB port to your laptop or other device, and starts to enjoy your music creation or performance.
NOTE: Please read the user manual before you use the MIDI function. Perfect for Drumming Beginners and Professionals. The air drum kit is easy to use and beginners, students, kids can easily learn rhythm and playing techniques to quickly improve their drumming skills. Equipped with high-quality drum sound sources and sound effects, it can also satisfy the performance requirements of professionals, allowing you to showcase your musical talents more impressively. The Air Drum Kit's volume can be adjusted, making it suitable for different settings, whether it's at home, in a recording studio, in a practice room, in outdoor travel, or for live performances. If you're having trouble connecting your PocketDrum to the AeroBand app, try the following steps. Use Bluetooth in the AeroBand app, not the Bluetooth in your device's system.
If you're using an Android device, turn on GPS, but you can turn it off after successfully linking your PocketDrum with the AeroBand app. Keep your PocketDrum close to your device (the one with the AeroBand app).
If you've tried the above steps and still can't link your PocketDrum to the app, exit and re-enter the AeroBand app. To re-calibrate your PocketDrum, follow these steps. Hold the drumstick and position your forearm and the back of your hand at the same level. Position the drumstick at the front of your belly. Slightly tilt both drumsticks inside and meet the end points of the drumsticks at a 60-degree angle.
Press the power buttons at the same time. To improve your drumming skills with PocketDrum, watch our instruction videos and follow the calibration instructions in the app. Re-calibrate PocketDrum periodically to ensure accurate position recognition.
What's in the Box. 2 × Electric Air Drumsticks. 2 × Electric Drum Pedals. 1 × Adapter 1 × 3.5mm AUX Cable. 1 × USB A to Type C Cable(For Adapter Charging).
2 × Dual Type C to USB A Cables(For Drumsticks Charging). Drumsticks Size: 13.80.71 inches.
Drumsticks Battery capacity: 400mAh each. Foot Pedal Size: 3.2360.4 inches. Foot Pedal Battery capacity: 400mAh. Bluetooth Adapter Weight: 1 oz.
Bluetooth Adapter Size: 2.41.30.6 inches. Bluetooth Adapter Battery capacity: 600mAh. Takes No Space and Quiet? The electric air drum set is perfect for those with limited space and can't be loud, with low delay less in 6ms in the latest upgrade.
Play the pair of air drum sticks indoor, outdoor, iin performance or in travel anytime and anywhere. Just need a speaker, headphone, or car stereo to make sound. Great for all ages and levels of music, according to music teachers and professional drummers. Playfully practice and learn the air drum with AeroBand App or start right away. The electric drum set features perfect sound quality with 8 different styles, including ROCK, FUNK, and JAZZ.
Play along with favorite bands via Bluetooth or record and enjoy or creat music via USB or Bluetooth MIDI. Optimized Algorithm and 50,000+ Users?
The elecetric drum set for adults and kids makes learning drums be easier than real drums for beginners or professionals with the action data of 50,000+ users. Play the pocket drum well in a short time, regardless of your drumming experience.