Electronic Drum Set E-Drum Kit 5 Mesh 3 Heads Cymbal Pads Module EQ USB Midi Aux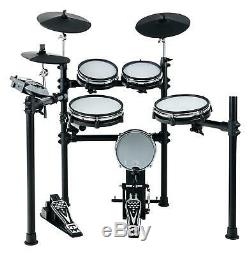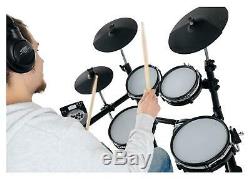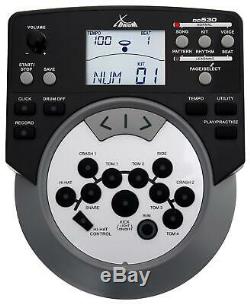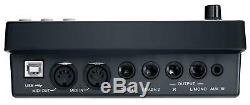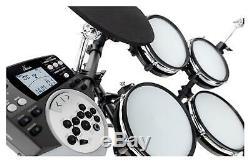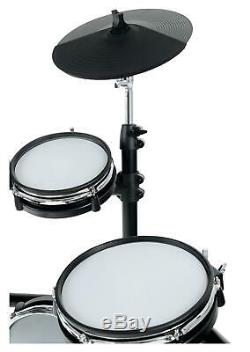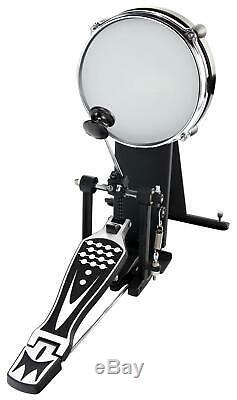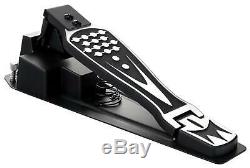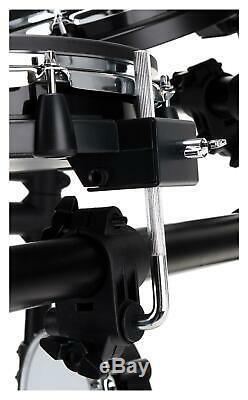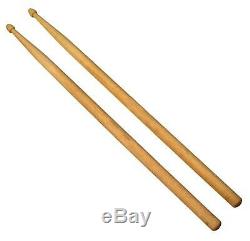 XDrum DD-530 Electronic drumset with mesh heads. Electronic drumset with drumrack, 4 stereo drum pads with mesh heads (2 x 8", 2 x 10"), 3 stereo cymbal pads (1 x Hi-Hat, Crash 1 x 1 x Ride), 1 Kick Pad, 1 Kick pedal, 1 hi-hat control pedal, drum module. Polyphony: 64, 45 drumkits, 11 General MIDI kits, 400 drum sounds, 7 hi-hat combos, effects: reverb, 3-band EQ.
Sequencer, learning mode, metronome, recording method: real-time, max. Note Memory: 1,600 notes, tempo 30-280, backlit LCD segment. 9 trigger inputs, headphone input, Aux In, 2 external trigger inputs, outputs L / MONO and R, USB, MIDI IN, MIDI OUT. Power supply: 9V Unit, dimensions when set up: (H x W x D): approx 113 x 100 x 63 cm, weight: 25.8 kg.
Customers who have bought this product from us. Superb live shows and silent learning-lessons.
The DD-530 is precisely the right drum set for the diverse needs of drummers. Comprehensive features guarantee, that you will have fun with the XDrum DD-530 Electronic drumset. The DD-530 is just perfect for your loud, powerful stage per- formance and also for taking silent lessons by practicing at home. As a beginner you will be inspired by the inspirational learning functions of the DD-530. It guaran- tees beginners and advanced drummers a total of 400 quality drum sounds, 45 drum kits and many more features ensuring maximum flexibility for any style.
Velocity-sensitive Pads Like with an acoustic drumset, the digital drums respond to different playing techniques and the velocity of the drummer. All pads of the DD-530 are velocity sensitive. Both, the Ride and the Crash cymbals, have a "cymbal choke" function: After striking the cymbal you can stop the sound directly with your hand. Mesh Heads The special fabric skins are ideal for electronic drums and offer a extremely authentic response. In comparison with conventional rubber pads the mesh heads provide an incomparable feel and a realistic rebound.
The trigger signal is transmitted optimally to the sound module and provides a nuanced, accented game. The DD-530: your needs, your ambitions, your electronic drum kit! 2018-01-11 16:27 - 0.
Specialist for musicians since 1987. Benefit from over 30 years of experience with musical instruments and accessories.
Our team of over 120 employees, consisting of musicians, PA specialists and many other specialists, will help you with all your questions. Our company-specific quality management puts our high demands on the products and services in place so that you are completely satisfied.
Own brands for the best price. With more than 1500 products from all areas of music, you will receive exclusive quality at fair prices. Master company with many specialist workshops. We have our own specialized workshops for electric, stringed instruments, wind instruments, drums and accordion.
We want you to be happy! Every problem can be solved! Our customer service is always available. Please note that there may be delays in answering your request, especially on weekends and holidays. Bulky instruments and articles e.
Digital pianos, large loudspeaker systems are dispatched by forwarding agency. Deviating times are possible after consultation with the delivering forwarding company and possibly additional costs. Some products, especially digital pianos have to be built with a few simple steps before using it. Surcharges for islands and special areas.
If the product cannot be repaired, Musikhaus Kirstein GmbH will replace it with an equivalent product. The replaced defective merchandise or replaced parts become the property of Musikhaus Kirstein GmbH. The return of products must be approved by Musikhaus Kirstein.
Damages due to improper use, improper use of the goods, external influences, such as damage in transit, or by repairs or modifications that have been made not by Musikhaus Kirstein GmbH or an authorized third party are excluded from the guarantee. Used merchandise is not covered by the guarantee unless otherwise stated in the relevant product description.
The repairs cannot be made by third parties. Computers and accessories are also excluded, as well as products defects that are use-related or are due to abnormal environmental conditions, overloading or improper maintenance or care. This guarantee contract governs the legal relationship between the purchaser and the Musikhaus Kirstein GmbH.
In addition, claims for damages to the extent that liability is not legally covered are excluded. You can return old batteries that we carry or have carried to our warehouse Musikhaus Kirstein central warehouse, Schongauer Str. The symbols shown on the batteries have the following meanings: The symbol of the crossed out wheeled bin means that the battery should not be disposed of with household garbage. Pb = battery contains more than 0.004 percent lead Cd = battery contains more than 0.002 percent cadmium Hg = battery contains more than 0.0005 percent of mercury.
Please note the tips above. Electrical appliances (return according to ElektroG). Information about the environmentally sound disposal of electrical and electronic equipment, in accordance with the Act Governing the Sale, Return and Environmentally Sound Disposal of Electrical and Electronic Equipment (WEEE). Manufacturers must label their electrical and electronic equipment placed on the market after 23 November 2005 with a symbol (crossed-out wheeled bin) and take them back free of charge.
We would like to inform you that such waste can not be eliminated as unsorted municipal waste but must be collected separately and disposed of through the local collection and return systems. We are obliged to reclaim sales packaging that is not marked with a symbol from comprehensive waste management and re-use it or to carry out a proper disposal.
In order to avoid unnecessary transport routes, we will first designate a local collection center or a waste management company in your area where you can drop off the package for free. 4592, 5960, 5970, 5985, 6720, 7884, 8305, 8592, 9940, 9950, 9960, Bornholm: 3700, 3720, 3730, 3740, 3751, 3760, 3770, 3782, 3790. Hiddensee: 18565, Nordfriesische Inseln: 25849, 25859, 25863, 25869, 25938, 25946, 25980, 25992, 2599625999, Ostfriesische Inseln: 26465, 26474, 26486, 26548, 26571, 26579, 26757, Helgoland: 27498, Neuwerk: 27499, Chiemsee: 83256. 62601, 8800188005, 91217, 9130191320, 9200192420, 9300194799, 96027, 96098.
17111, 17123, 17190, 17310, 17370, 17410, 17480, 17550, 17580, 17590, 17630, 17650, 17670, 17740, 17840, 17880, 7940, 22870, 29242, 29253, 29259, 29990, 56360, 56590, 56780, 56840, 85330, 85350, Korsika: 2000020999. Saronische Inseln: 180xx, 189xx, Ionische Inseln: 28xxx29xxx, 31xxx, 49xxx, Berg Athos: 6308663087, Kreta: 70xxx74xxx und Inseln der Ägäis: 80xxx85xxx. Nordirland: BT, Kanalinseln Guernsey und Jersey: GY, JE, Äußere Hebriden: HS, Isle of Man: IM, Schottisches Hochland (Highlands) und Isle of Skye: IV, Orkney Inseln: KW, Shetland Inseln: ZE Firth of Clyde Inseln: KA27-28, Region Argyll and Bute mit Loch Lomond und Innere Hebriden: FK17-21, PA20-38, PA41-49, PA60-80, PH16-50, Isle of Wight: PO30-41, Isles of Scilly: TR21-25. Pontinische Inseln: 04020, 04027, Sardinien: 0700009999, Lagune von Venedig: 30010, 30012, 30100, 3012130126, 3013130133, 30135, 30141, Elba mit Tyrrhenische Inseln: 5703057039, 5801258013, 58018, Tremiti Inseln: 71040, Inseln im Golf von Neapel: 8007080071, 8007380077, 80079, Inselgruppen um Sizilien: 90010, 91017, 91023, 92010, 98050, 98052, 98055 Einige PLZ können Gebiete auf Inseln und dem Festland betreffen. 1156AA1156ZZ, 1791AA1797ZZ, 8881AA 8884ZZ, 8891AA8897ZZ, 8899AA8899ZZ, 9161AA9164ZZ, 9166AA9166ZZ.
Madeira: 90009390, Porto Santo: 9400, Azoren: 95009980. 10005, 13025, 13033, 13034, 13036, 13038, 13039, 13042, 13043, 13055, 13056, 37022, 4308043099, 4520445205, 4711247115, 4750047599, 6200062999, 7429674297, 7601776019, 91803. Balearen: 0700007999 Please note the supplies to the Canary Islands, Ceuta Melilla and Fuerteventura, are not possible! Campione d'Italia: IT 22060, CH 6911, Livigno: IT 23030, Martina: CH 7560, Samnaun: CH 75627563. Artikelnummer: 00036021 / Versandklasse: 30 / Item 48082 / Type: 9 / Site:3 / Template: 800.
The item "Electronic Drum Set E-Drum Kit 5 Mesh 3 Heads Cymbal Pads Module EQ USB Midi Aux" is in sale since Tuesday, November 10, 2015. This item is in the category "Musical Instruments\Percussion\Drums\Drum Kits". The seller is "musical-instrument-24" and is located in London - no collection possible. This item can be shipped to United Kingdom, Ireland, Germany, France.