Roland TD-17KV Electronic Drum Kit (Unwanted Gift Hardly Used)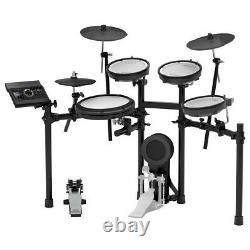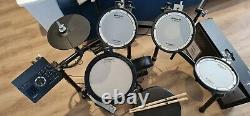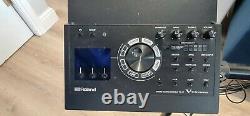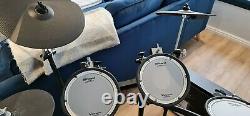 Roland TD-17KV Electronic Drum Kit (Unwanted Gift Hardly Used). Includes 2 pairs of drumsticks, adjustable seat, kick drum and hi-hat pedals. Become a Better Drummer, Faster. Featuring a superbTD-50-Class sound engine, and an array of newly developed pads, this RolandTD-17KV is an affordable electronic drum kit that offers you a playingexperience that's as close to using an acoustic kit as you can get.
All of thephysical movements you'd associate with playing an accoustic kit - such asstick coordination, hand/foot control etc. Is accurately mirrored whenplaying the TD-17KV, and its built-in coaching functions can actually trackyour technique, measure your progress, and help you improve each time you play! Thanks to thePrismatic Sound Modeling technology inhereted from the flagship TD-50 soundmodule, the TD-17KV's sound engine offers you a far superior drummingexperience to comparable models. You get a much wider dynamic range and anarray of dramatic tonal changes from this sound module, all based on how hardand where you strike the pads, allowing you to perform rim shots, cymbalcrashes, rolls, flams, and even ghost notes, with each and every nuance detailed, accurate, and ultra-smooth. With the TD-17module you have the option to use the fabulous Coach Mode, which supports yourdaily exercise regime. Coach Mode allows you to warm up, develop your sense ofgroove, tempo and timing, or even just work on your stamina, and gives you ascore after each exercise to show you how you're doing.
The module's display shows you the number ofaccurate strikes made as a percentage value, as well as whether they were on, ahead or behind the beat. WarmUp mode isthere to help make those daily practice sessions seem like less of a chore. Each warmup can be undertaken over 5, 10 or 15 minutes, and come at you withvarying rates of difficulty and tempos. This range of exercises helps toprepare you for some serious drumming, with sections that focus on changes torhythm and tempo, and a detailed evaluation afterwards which will help you seta target for improvement with future sessions.
Whilst rehearsingyou'll want to play with drum sounds approximating the same ones you'll beusing live with your acoustic kit. Thanks to the amazing TD-50 audio engine, the TD-17 series includes a huge variety of expressive modelled drum sounds foryou to choose from - including 50 premium-quality drumkits, the ability tocreate your own signature kit, and even imported sound samples - alongsidedifferent reverb types! You can even takethings one-step further and download the free App "Melodics forV-Drums" (compatible with both Windows and Mac operating systems), thatcomes complete with a series of free drum lessons to help you improve upon yourplaying, with subscribers also being able to access premium content, which isupdated weekly! Every piece of the TD-17Series has been designed to offer you plenty of reliability for years to come.
Each of the pads and pedals have been specially constructed to withstand abeating, whilst retaining their excellent levels of playability. The item "Roland TD-17KV Electronic Drum Kit (Unwanted Gift Hardly Used)" is in sale since Wednesday, April 7, 2021. This item is in the category "Musical Instruments\Percussion\Drums\Drum Kits". The seller is "lichfielduk" and is located in Wrexham.
This item can't be shipped, the buyer must pick up the item.
Brand: Roland
Type: Electronic Drum Kits
Skill Level: Intermediate
Items Included: Drum Sticks
Product Line: TD-17