Roland TD-17KVX V Electronic Drum Kit, Boxed and Extras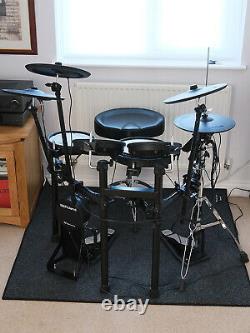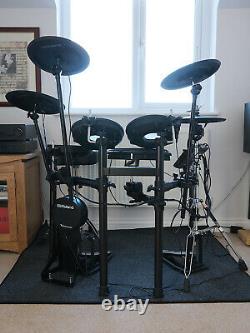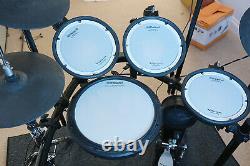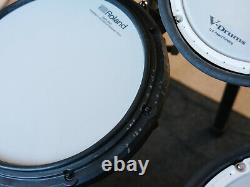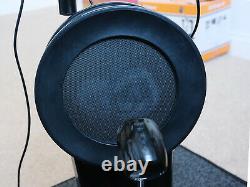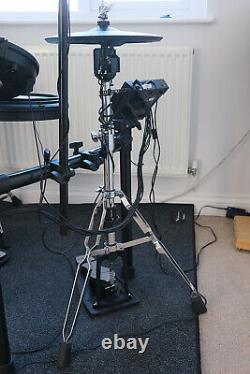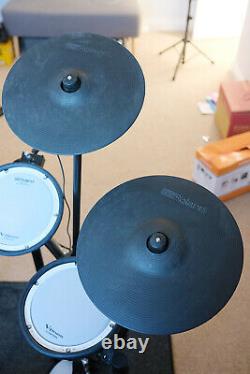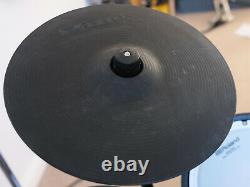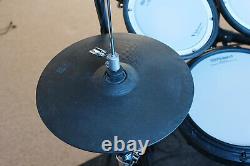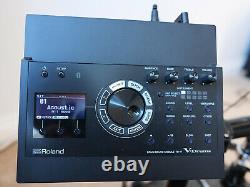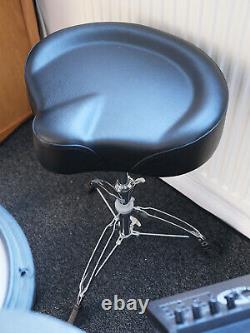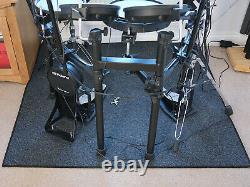 Its had very little use and has only been used at home. I play only for fun and have never gigged with the kit. It has been kept in a smoke and pet free house since I bought it brand new around 3 years ago.
As you can see from the photos, the kit has a few marks from the sticks, mostly on the cymbals and some on the rim of the snare. However, none of these affect the playability and it is in perfect working order. The kit includes an upgraded Roland Hi-Hat stand (RDH-120) and upgraded Roland Kick Pedal (RDH-100), both of which have Rolands noise eating technology. It also includes a Mapex T575A Motorcycle style drum throne and Roland TDM 10 Drums Mat.
The kit is currently set up at home so you can test it. This is one of the best electronic drum kits on the market, and its ready to play! Expect this to sell fast, any questions please ask! The kit is for collection in person only, which will give you a chance to try it out. The Roland TD-17KVX represents Roland's latest research and development on creating the finest V-Drums available on the market - With features taken directly from the flagship TD-50 Kit.
Flagship Roland V-Drum Performance in a Compact, User-Friendly Kit. The TD17KVX features an upgraded Cymbal & Hi-Hat pad set, with an extra Cymbal and Boom arm (comparatively to the TD-17KV). Great for expanding the dynamic potential of the kit, as well as providing a more authentic response when you need it most. The TD-17KVX includes Prismatic Sound Modelling, Bluetooth streaming, SD Card support and a powerful, dedicated coaching program, making it perfect for new, mid-level or professional players. A great choice for any level player who wants an uncompromising acoustic feel, response and sound.
Its the ultimate mid-range electric drum kit to learn, practice and play live. Roland TD-17KVX V-Drums Electronic Drum Kit Specs.
Drum Sound Module: TD-17 x 1. Extra Trigger Input Jack: 2 (AUX, CRASH 2) used for CY-12C of 2nd crash cymbal. Also: Roland RDH-100 Kick Drum Pedal.
Mapex T575A Motorcycle style drum throne. Roland TDM 10 Drums Mat. Adjustable Ambience levels for each kit.
Interactive Training and Technique Improvement Tools including Daily Warm Up. Deep sound editing functions with sample layering. SD Card Slot for Import and Export. Tunable Dual-Mesh PDX-12 Snare Pad. Upgraded VH-10 V-Hi-Hat Pad Included (Stand Hardware also included).
Upgraded CY-12C Crash Pads Included x 2. Roland have designed the pads of the Roland TD17KVX kit to give you an incredibly authentic playing feel. So, if you're used to playing acoustic drums, you can carry on playing with the TD-17KVX the way you want to play, without compromising or changing your technique. Also, since the TD17 drum sound module is so advanced, you can play these pads however you want with every sound being faithfully reproduced with ultra-fast response time. Because on many electronic drum kits you have to hit the centre of the pad, the pads tend to be a lot smaller.
However, with the TD17KVX, you get a 12 dual-mesh PDX-12 snare pad which is tension adjustable, giving you satisfying and incredibly authentic rebound. The height of the snare hoop is also closer to what you'd find on an acoustic snare so you can easily hit an open rim shot with a natural stick angle. The TD-17KVX also comes with a VH-10 V-Hi-Hat which has a single-cymbal floating design that can be mounted and played with the included Roland RDH-120 Hi-Hat stand. The VH-10 gives you the same playing feel you get from a real acoustic hi-hat with that great rebound feel and natural swinging motion you get with the hi-hat cymbal. It also boasts open/closed motion and bow/edge sounds so you can perform all the traditional playing techniques that you're used to.
Another important part of this Roland V Drums kit is the KD-10 kick pad. Designed to absorb a lot of noise with its rubber cover and dedicated cushion, you can play as hard as you like while making minimal sound. Even better; the KD-10 still offers you that satisfying, thudding kick drum feel when the beater hits the bass drum head. On top of all this, the TD-17KVX also comes with three PDX-8 toms, two CY-12C crash cymbals and a CY-13R ride cymbal, so you get the full acoustic drum kit experience but in a compact, highly portable electronic drum kit. What's more; the position and angle of each pad is fully adjustable so you can customise the TD-17KVX to your perfect setup.
Using Roland's proprietary Prismatic Sound Modelling technology (inherited from the flagship TD-50 sound module), the Roland TD-17 sound engine delivers some of the industry's most authentic electric drum sounds. Depending on where you hit each pad, and the velocity of each stroke, the TD-17 offers the most dynamic performance available on a kit at this price. Perfectly sampled within the TD-17 module, and easily expandable with your own sounds and samples via SD Card.
All your playing techniques from rim shots, rolls, flams and ghosts notes on the snare to full-on crash hits, extended cymbal swells along with half-open position on the hi-hats and even more sounds for the bow and edge, will be picked up by the TD-17 with incredible detail. You can even choose from 50 premium quality drumkits to suit a range of different scenarios and genres. You can choose "Acoustic for warm, wooden vibes, "Compact" for the sound of a smaller stage or go to the other extreme and choose "Arena Stage. Selecting the "Studio" kit sound gives you incredible clarity which is perfect for recording, or you can go the route of more genre specific kits such as "Fat Rock" and "Speed Metal". Whatever you're looking for you can be sure that the Roland TD-17 will have something to match your style.
Create Your Own Custom Kit. You can, however, completely customise your kit sound. Modern professional drummers like to craft signature drum sounds by layering multiple elements. Using the TD-17 you can create your own signature kit, layering multiple sounds and editing them using the onboard pitch control, EQ, effects and more.
Whether you're just getting grips to keeping a rhythm or you're a veteran drummer and you want to refine your technique, the TD-17 module has a number of built-in training features to help you along the way. Using the Roland TD17 drum module's Coach Mode you get the perfect support for your daily training. From warm ups to tempo and timing and even stamina development, the TD-17 keeps you motivated, tracks your progress and gives you a score so you can see exactly how well you're coming on. You get a percentage score for your accuracy and the TD-17 even tells you whether your pad strikes were before, ahead or on the beat.
You can take your timing to the next level by switching over to Quiet Count mode. The more you use this mode, the better your "internal metronome" will become.
Then there's WarmUp mode which makes sure your daily drum practice sessions are more fun and motivational. You can choose either a five, ten or fifteen minute session with a range of difficulty settings and select a tempo. You will then be provided with a range of different exercises for working on rhythm type changes, tempo changes and playing accuracy.
PLEASE DON'T HESITATE TO GET IN TOUCH WITH ANY QUESTIONS AND REMEMBER, THIS IS FOR COLLECTION IN PERSON ONLY, THANKS. The item "Roland TD-17KVX V Electronic Drum Kit, Boxed and Extras" is in sale since Saturday, October 2, 2021. This item is in the category "Musical Instruments\Percussion\Drums\Drum Kits". The seller is "kbrowne45" and is located in Somerset (County).
This item can't be shipped, the buyer must pick up the item.
Model: TD-17KVX V
Type: Electronic Drum Kit
Brand: Roland