Roland TD-30 Electronic Drum Kit Module / Brain + Rock & Strike VEX Packs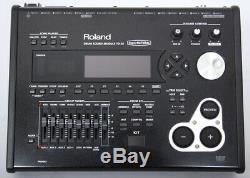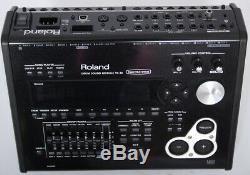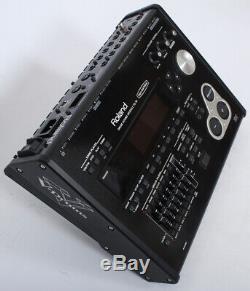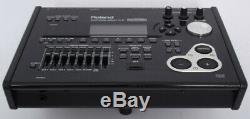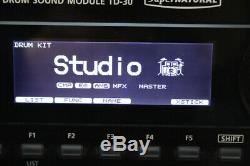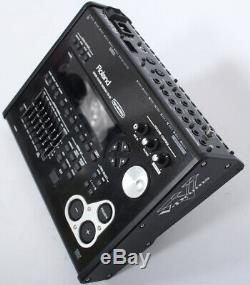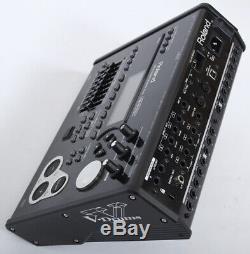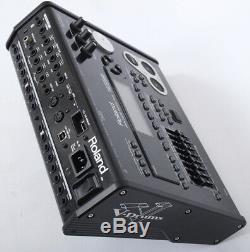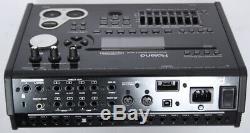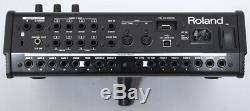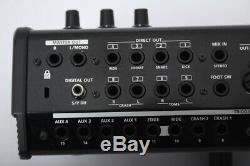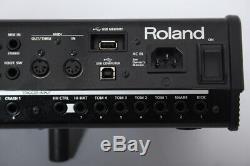 +'Rock' &'Strike' VEX Packs. Very good all round condition, only a couple of very minor cosmetic blemishes. Comes with mount, power supply plus'Rock' and'Strike' VEX Packs. PLEASE NOTE: The Mix In pot cover is currently missing, however a replacement has been ordered from Roland and will be replaced.
The TD-30 is a drum sound module designed for V-Drums V-Pro series. With SuperNATURAL sounds produced by Behavior Modeling, the sound quality is superior, responding naturally to a variety of drumming techniques and dynamics. From rim shots, rolls, flams, even ghost notes on the snare, to dramatic crash hits and sustained cymbal swells, every nuance is accurate and smooth.
For spatial depth, a dedicated Ambience fader gives you immediate access to lush room ambience and overhead-microphone simulation. A dedicated ambience fader on the panel provides instant, hands-on control of the overall ambience level.
In addition to its instant-gratification playability, the TD-30 has a powerful V-Edit function to customize the sounds plus professional mixer functionality/outputs for studio engineering. For computer connectivity, its USB functionality provides support for music-production applications. This module comes with two V Expressions (VEX) Expansion Packs,'ROCK' and'STRIKE'. All standard TD-30 sounds can be reinstalled simply by performing a "factory reset".
Yam Studio Simple Yamaha Studio kit for multi genre. Dirt Funk Dirty Funk kit for old school, pop and R&B. Carnal Ludwig Inspired by Van Halens Carnal Knowledge. Sonar Wet Hi Sonor Delite kit with high toms. Sonor Wet Po Variation on Sonor Delite with 80s Tama toms.
HubaStnk Lo Inspired by Hoobastank with low toms. Sonar Wide Wide spectrum room. STP Wide Mash up of 80s rock meets modern thickness. LimpRoll Super compressed Bisquit kit. Foo Kit Inspired by Foo Fighters.
Tat Kit Tattoo kit with normal toms. Tat Roto Tattoo kit with roto-toms. Nirvahna 80s rock meets modern compression.
Big Thick All around great pop rock and ballad kit (multi-use). Tight Tinge Emo reggae hybrid for modern pop. Old Fart Open and loose studio kit for folk rock. Thin Timmy Emo hybrid for modern punk. Loosy Susie Open and loose studio kit for special effect.
Boomy Roomy Special effect kit a la Beck, etc. Sam Steel Pronounced steel snare with round warm kit.
Muted Fiber Flashback to fiber. Dirty Ralph Big open kit for modern jazz and pop. HS Perclator Mash up of high school components in a kit. Popcorn Tight wet reggae kit. Free Fallen Modern ballad kit inspired by Tom Petty.
Toxic City Mono-tastic Toxicity kit. Bull Valntne Inspired by Bullet for my Valentine. Jumpsuite Inspired by Jumpsuit Apparatus. Emo Gasm Emo punk dreams come true.
Old Ass Punk Old school punk for modern day chumps. Moms Garage Actually sounds nothing like my moms garage. Collins Kit Old dried up Phil Collins kit. Buum Stuud Read: Boom Stoo-dio, not Su Suedio.
Crude Stud Trashy lofi kit for modern pop. Nasty Woody Dirty loose acoustic for hipster rock. Maple Mix Mix of maple components in a warm clean studio room. Open Fiber Fiber kit in a warm clean studio environment. Old Fiber Fiber kit in aged processing.
Ol Ludwig Raw acoustic Ludwig in the studio. El Ayotte Ayotte kit ravaged in Murican studios. Orange CTY Alans version of Orange County. Tricksy Tight light poppy kit. Powmier Powerful Premier in a big room.
Cym Set 1B Bosphorus Cymbal Set. Cym Set 2M Meinl Cymbal Set. Cym Set 3S Soultone Cymbal Set. Cym Set 4I Istanbul Cymbal Set. Cym Set 5C Constantinople Cymbal Set.
PearlMSTR WX 2004 Masterworks kit Mahog/Maple hybrid. Leedy Solo 1965 Leedy drum solo outfit. 125thGretsch 2008 Gretsch 125th Anniversary Walnut. Slingerland 1979 Classic Rock 91N series. Ludwig 80 1980 Rock power drum set. SonorProOak 2013 Sonor Pro - Oak. Tama83Gstar 1983 Grandstar Mahog finish.
TamaSLVRstar 2013 Tama Silverstar Mahog drumset. RBH Monarchs RBH Monarch line: Mahog-Poplar-Mahog shells. YamahStage2 80s deep drums/ Birch/Mahog.
Mullins USA Mullins Drum Co. Allegra Drums- Allegra Custom drum co. Pearl Masters 2001 Pearl Masters. C&C Drums C&C Custom Drums oil finish.
Revelation Drums Revelation Drum Co. DesignerLite Sonor Designer Lite Maple. Joyful Noise Joyful Noise Seamless Metal Snares. RonnDunnett Dunnett Snare/ Drum Co.
YamahaTurbo 1985 Turbo Touring Custom. Olive 1977 1977 Ludwig ProBeat Outfit. YAM Rec Cstm 1984 Yamaha Recording Custom MM. SJC Birch SJC Drums / Birch Oil.
SleishmanMPL Dave Sleishman Custom Drums / Australia. 65 Sonor K190 1965 Sonor K190 outfit. N&C Horizon Noble & Cooley Horizon - mahog. Ayotte Hoop Ayotte drums with wood hoops. Remod & son - Remo Roto Toms.
Gretsch Renown 2009 Gretsch Renown. RGRS dynasnc Chrome over Brass shell Rogers Dynasonic snare. Sonor Ascent 2013 Sonor Ascent Beech shells.
Fibes 72 Fibes 1972 Dual Forte Drum set. Maple Works Maple Works Custom Drums, 6 ply maple. CLE Drums CLE Custom Drum Co. DW Collectors 2013 DW Collectors Wrap Finish.
Percusasorus fun and lively VEXd percussion kit. Groovn on UP Tama Artstar funk kit.
BLACK Beauty Ludwig Super Classics. MantineriMHG Mantineri Custom drums, Mahog. 07 Pearl BSX Pearl Masters Studio, Birch. Sonor Phonic 1977 Sonor Phonic. LDWG Epic 10 - 2010 Ludwig Epic Maple/Birch shell drums. ROGERS BIG R 1983 Rogers Big R power drum set.
Spaun USA MPL 2008 Spaun USA Maple custom drums. BankA Snare snare groupings from Bank A (Rolls and Rudiment techniques). BankB Snare snare groupings from Bank B (Single Shot technique). Cymbal Set Sabian AAX cymbals. Cymbal Set Meinl GenX cymbals.
Cymbal Set Dream Cymbal co. Cymbal Set K Constantinople Med Thin series. Cymbal Set Paiste Signature Traditionals/ hammered.
Bonus VEX Kit Sabian Hand Hammered. Note: 62-100 are Roland Stock User Kits. The item "Roland TD-30 Electronic Drum Kit Module / Brain + Rock & Strike VEX Packs" is in sale since Wednesday, June 12, 2019.
This item is in the category "Musical Instruments\Percussion\Drums\Drum Kits". The seller is "lovedrums" and is located in Hastings. This item can be shipped worldwide.
Model: TD30
Country/Region of Manufacture: Japan
Type: Electronic Drum Kits
MPN: TD30
Brand: Roland
Drum Type: Electronic Drum Module / Brain