Roland V DRUMS TD-27 electronic drum module set loom psu manual mount & screws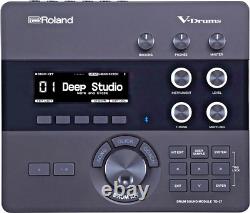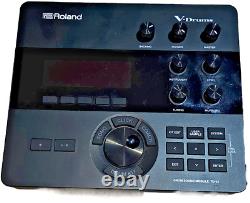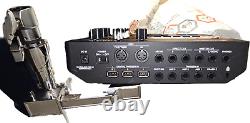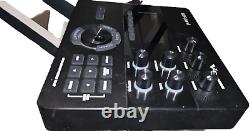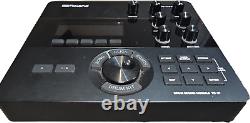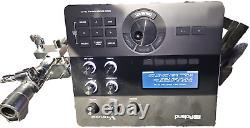 Roland VAD506 Module: TD-27 V2.0. Newly updated and enhanced, the TD-27 V-Drums sound module is loaded with the finest acoustic drum sounds you've ever heard.
Roland's Prismatic Sound Modeling produces drums that not only sound exceptional, but also respond just like real acoustic instruments when you play them. Advanced digital trigger inputs support Roland digital pads for unmatched expression, while PureAcoustic Ambience Technology offers a variety of inspiring drumming spaces at the touch of a button. A wide selection of electronic sounds from Roland's rich sonic history are also included, providing must-have sounds for modern styles. And by loading and layering your own samples with internal drums, you're able to craft sounds that no other drummer can claim.
Updated sound module with enhanced features and advanced Prismatic Sound Modeling derived from the flagship TD-50X. 75 ready-to-play preset kits, including 10 all-new kits and a variety of new samples.
Three digital trigger inputs for advanced Roland trigger pads like the 14-inch PD-140DS digital snare, 14-inch VH-14D digital hi-hat, and 18-inch CY-18DR digital ride cymbal. Updated module interface for even faster sound selection and drum customization.
Drum in a variety of hyper-realistic sound spaces with PureAcoustic Ambience technology. Enhanced layer and transient functions plus support for parallel compression. Overhead mic simulator and studio-level effects for processing drum sounds. Import your own WAV samples via an SD card. Stereo mix output and two assignable outputs for sending individual drum sounds to a PA mixer.
Integrated 28-channel USB audio interface for professional computer music production. Multi-pin trigger jack and included cable for connecting with a standard V-Drums pad setup. Dedicated Crash 2 trigger input and three auxiliary trigger inputs for easy kit expansion. Onboard Bluetooth® for drumming with music from a smartphone or laptop.
Built-in practice functions for developing drumming skills. TD-27 Version 2: More Sounds, More Power. The TD-27 module gets even better with the Version 2 update. Explore 75 preset kits, including 10 all-new kits and newly enhanced versions of the three most popular kits from the original release. New pre-loaded samples are also available for combining with preset kits or your own custom setups.
Layering features have been expanded, while parallel compression options and transient shaping enhancements provide even greater sound control. The module interface has also been improved for even faster sound selection and drum customization. Feel the Sound of Prismatic.
Roland's Prismatic Sound Modelling brings you an electronic drumming experience like no other. We start with carefully curated samples of real drums and percussion, recorded by top players in leading studios.
Next, we bring these static samples to life with advanced modelling that recreates the acoustic behaviour between each sample for a smooth, true-to-life drumming experience. Seek Your Signature Drum Sound.
With acoustic drums, you personalize the sound by swapping heads, adjusting the tuning, applying damping, changing out kick beaters, and more. You can do the same with the TD-27 module and its hands-on controls and intuitive editing tools.
And with the module's enhanced layering features, it's even easier to create fat, hybrid sounds. Edits are saved automatically as you go, so you can always stay focused on playing. Import Samples to Perfect Your Performance.
Some performances need specific sounds. With the TD-27 module, you can import and trigger original single-shot drum hits or introduce audio loops, sequences, and more. Going further, imported samples can be mixed and layered with internal sounds to build any kit you can imagine. The TD-27 module features three digital trigger inputs for advanced Roland digital pads like the PD-140DS snare, VH-14D hi-hat, and CY-18DR ride to deliver the most natural expression of your drumming.
Multiple sensors and lightning-fast module processing work together for unparalleled response, enabling you to play genuine techniques in the most natural way, with every nuance precisely detected and perfectly translated. In addition to its three digital trigger inputs, the TD-27 module features a multi-pin analog trigger jack for fast and easy connection with any standard V-Drums pad arrangement via an included cable. There's also a dedicated analog trigger input for a second crash cymbal pad, plus three auxiliary trigger inputs for customizing your setup by adding any Roland trigger pad. Use PureAcoustic Ambience technology to create an incredibly natural and immersive sound field when playing.
And go deeper by adjusting individual drums mics and the stereo overheads, just as you would with an acoustic kit. Advanced onboard multi-effects and mixing capabilities give you the power of a full-scale studio console, with transient processing, parametric EQs, compressors, reverbs, delays, and more at your command. Connectivity for Stage and Studio. The TD-27 is a powerful command center for any electronic drumming setup, with ample connectivity options for both stage and studio use. There are stereo outputs for the overall drum sound, plus two direct outputs for sending kick, snare, and other sounds to an audio console for independent mixing.
The built-in USB audio interface makes computer music production simple, with up to 28 discrete audio channels available over a single cable. MIDI is also supported via USB and dedicated I/O, allowing you to sync with other MIDI devices and trigger sounds in computer software. Play along with backing tracks and your favourite bands, or mix the sound from a YouTube lesson video with the kit. You can even record your performances-with or without backing-to hear where you need to tighten things up. Your Personal Onboard Drum Coach.
Coach mode supports your daily practice sessions, complete with progress tracking that makes learning effective and rewarding. Play through warm-ups, develop your sense of groove, tempo, and timing, and even work on your stamina-all with a score that highlights your progress and motivates you to improve. Fast-Track Your Progress with Melodics for V-Drums. A free application for macOS and Windows-features a curated set of drum lessons to develop your sense of rhythm, timing, and muscle memory. Subscribers can access additional premium content that includes over 70 lessons, with more added each week.
This item includes the loom cable, psu manual mount & screws and is updated to the latest version 2.0.