TourTech TT-16S Electronic Drum Kit with Headphones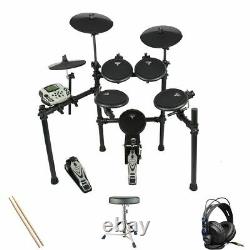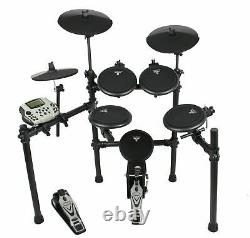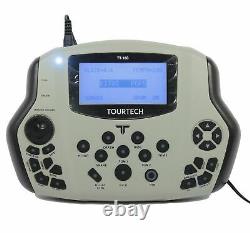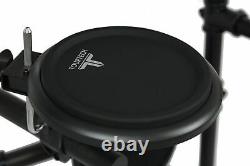 TourTech TT-16S Electronic Drum Kit with Headphones. The TourTech TT-16S Electronic Drum Kit Bundle offers top quality, pro-level features at a fantastically low price!
Including a full, function-packed 8-piece drum kit, a double braced drum throne, iso.. Including a full, function-packed 8-piece drum kit, a double braced drum throne, isolating headphones and drumsticks, this bundle has everything you need to get up and drumming immediately! That's why TourTech bundled together this amazing selection of top quality products to create the ultimate beginner drum kit package. Including an amazing top quality electronic drum kit, drum stool, stereo headphones and a pair of drum sticks, this affordable bundle includes absolutely everything you need to get playing straight away! Tourtech TT-16S Electronic Drum Kit Bundle Includes.
1 x Tourtech TT-16S Electric Drum Kit. 1 x Numark HF125 Headphones. 1 x TourTech TT-DT32C Drum Stool.
1 x Pair Drum Sticks. Tourtech TT-16S Electronic Drum Kit Configuration.
1 x TT-16S Sound Module. 1 x Large Bass Drum Pad. 1 x Bass Drum Pedal. Practically everything on the TourTech TT-16S kit has been upgraded and improved from the TT-12 drum kit models.
The TT16S includes a range of upgrades and professional features while still maintaining an outstandingly affordable price point. The frame, the module, the pads, the kick pedal and the cymbals have all been upgraded from the basic TT-12 kits, resulting in improved playing feel, response and expression.
From features to make recording drums easy, to functions that make jamming away on your kit both fun and rewarding, the TourTech TT16S delivers an absorbing, high quality experience. Each of the pads on this TourTech electronic drum kit feature dual zone triggering to allow multiple sounds from one pad.
Having the ability to trigger 2 individual sounds from one pad instantly doubles the number of sounds you have access to at any one time. It also helps to improve natural, acoustic drumming techniques. For example, on the snare drum you can utilise the centre of the pad to achieve a full-on snare sound or play a rimshot to create a robust side stick sound, exactly like you would on an acoustic snare drum. Being able to play an electric kit with the same style and techniques that you would on an acoustic kit means that you can easily manoeuvre between the two for a seamless transition of skill. The range of upgraded pads means that this kit offers a fully responsive drum and cymbal pad experience, to achieve an amazingly natural and comfortable playing feel. Another big improvement to the TT-16S drum kit is the full, large bass drum pad and single bass drum pedal. Offering the exact same set up and realistic, physical playing response you'd get from an acoustic drum kit set up, the bass pad of the TourTech TT16S delivers a robust, natural playing feel. Having a bass drum beater that physically strikes the bass drum pad in the same way it would hit a bass drum head means that the TourTech provides a true replication of an acoustic playing set up. Not only does this feel much more rewarding to play, it also encourages the development of bass drum pedal and foot technique so that you can begin building your skills right from the start. One of the huge playing improvements from the TT12 drum kits is full cymbal pads that have a choke feature. This is an amazing feature to have in an electronic drum kit of this price! Providing a truly realistic playing response, the TourTech TT-16S lets you grab the cymbals to silence them just as you can with real acoustic cymbals. Often used for effect or to bring sound to an end at the conclusion of a song, choking the cymbals basically means grabbing them with your hand to make them quiet. Having the ability to interact with the electronic cymbal pads in this way means you're truly replicating the way you would play an acoustic setup.
Again, not only does this improve the playing experience, it also helps you to build upon your skills and allows you to incorporate new techniques into your playing. This electronic drum kit comes complete with the TourTech TT-16S Sound Module to deliver a wide range of useable sounds to suit a variety of playing styles and music genres. The module is packed with over 450 top quality sound samples, 26 complete preset drum kits and 15 user presets that you can edit and save yourself to create your own favourite drum kit setups. From big arena rock kits to tight hip-hop studio kits, the TourTech TT-16S offers a range of sounds to fulfil the most diverse of needs. The TT-16S sound module also comes with 20 built in demo songs so that you can start practicing along to music straight away.
The stand or "rack" system of the TourTech TT-16S is slightly larger than that of the TT-12 kits to provide a more robust and durable setup. Despite being larger than the TT-12 rack system, the stand of the TourTech TT16 is still extremely compact and portable. Plus, to aid quick and easy setup, the main part of the ergonomic 3-sided rack is already built so that you can get going straight out of the box. Offering a small footprint and great portability this time saving set up is ideal for those who want to take their drum kit to gigs and rehearsals, or for those who are short on space.
The module of the TourTech TT16S also features a range of effects to further enhance your drum sound. The TT-16S has two reverb settings to help create a sense of space to your drum sound for a more realistic, natural kit sound. There is also a 3 band EQ section built-in to the sound module allowing you to tweak and edit the characteristics of the 450+ drum sounds. Perhaps you want your bass drum sound to have more low-end warmth, you can use the EQ to achieve that.
Maybe you want your cymbals to have more sparkle, simple boost the high-end frequencies using the 3-band EQ to achieve it. Having the opportunity to edit and shape your drum sounds means that you can achieve a truly personalised kit sound to suit your preferences and needs.
The TT-16S sound module also features USB connectivity to accommodate studio quality stereo recording into your preferred computer recording software. There's also MIDI connectivity included allowing you to trigger separate outboard devices, which opens up a whole new array of sound options. A great way to expand your kit! Not only do you get an amazing top quality drum kit at an amazing price, this bundle also includes a drum stool, headphones and drum sticks! The TourTech DT32C Drum Throne is a reliable, super sturdy double braced drum stool that provides comfort and support to make sure you feel your best behind the kit.
Featuring a rugged double braced steel shaft and an anti-sinking lock screw, this Tourtech drum throne is height adjustable to accommodate a range of players and features a soft, padded round seat for comfort. Also included in this package is a set of Numark HF125 Headphones to ensure you can practice quietly with great quality audio without bothering your neighbours or family members. These headphones are incredibly light and have a padded headband along with comfortable ear cushions so you can wear them for longer and concentrate on your performance. And last but not least you even get a pair of quality drumsticks to make sure you can get drumming straight away! Offering an absorbing, high quality drum kit experience, the TourTech TT-16S is packed with player-friendly features and excellent sounds.
The natural feeling dual zone pads and large bass drum pad help to create a responsive playing feel, while the chokeable cymbal pads deliver an ultra-realistic acoustic style response. Packed with over 450 sounds, reverb and EQ effects the TourTech TT16S sound module ensures you have a sound for every situation. For sophisticated, pro-level features at a fantastically low price, grab the TourTech TT-16S Electronic Drum Kit Bundle today from PMT Online! Tourtech TT-16S Electronic Drum Kit Bundle Specifications. TourTech TT16S Electric Drum Kit.
Complete 8-Piece Electric Drum Kit. 128 x 64 character LCD display.
458 high quality percussion voices. 26 preset drum kits + 15 user-defined drums kits. Fully responsive, dual zone tom and cymbal pads.
Ride and Crash cymbals with "choke" function. Dual zone snare pad with rim-shot and cross-stick feature. Built-in demo tracks and record facility.
Fully expandable with extra tom and cymbal inputs. MIDI In / Out and USB Connectivity.
Editable drum sounds, featuring "tune" function. 3 band EQ, 3 ambience and 2 reverb settings. Upright and fully responsive bass drum trigger. Complete with bass drum pedal and sticks.
Adjustable height: in 5 steps from 50 to 63 cm / 19.7" to 24.8". Diameter: Round seat (32 cm/ 12.6). Construction: Steel shaft w/anti-sinking lock-screw. Weight: 3.1 Kg/ 6.8 lbs.
Max static load capacity: 330.69lb / 150kg. As the UK's premier music retailer, we specialise in the supply of Guitars, Drums, Amps, Keyboards, Pianos, PA & Live Sound, Recording & Studio Equipment and DJ Gear. This item is in the category "Musical Instruments & DJ Equipment\Percussion\Drums\Drum Kits". The seller is "pmt-online" and is located in this country: GB. This item can be shipped to United Kingdom.
MPN: TT-16S
Brand: TOURTECH
Type: Electronic Drum Kits
Experience Level: Beginner
EAN: 721782556508