Tourtech TT-22M Electronic Drum Kit Bundle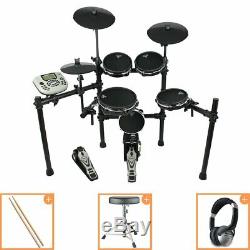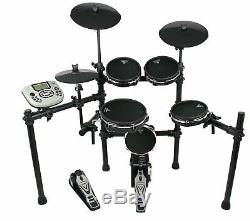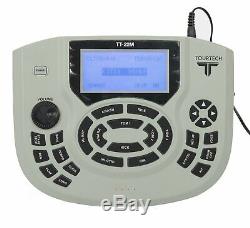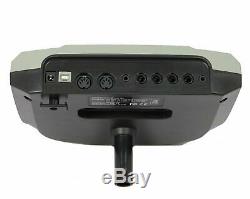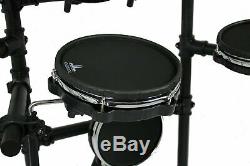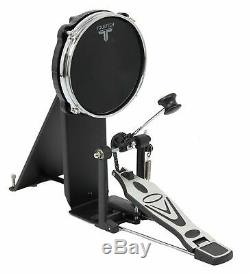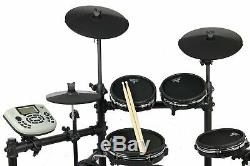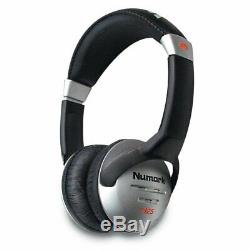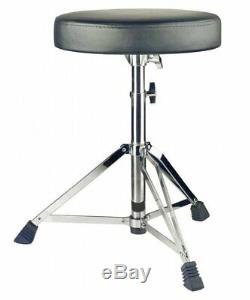 Tourtech TT-22M Electronic Drum Kit Headphone Bundle. The TourTech TT-22M Electronic Drum Kit Bundle includes a top of the range pro-level mesh head drum kit, a durable double braced drum stool, isolating stereo headphones and even has drum sticks thrown in too! An amazingly affordable choice for beginners through to advanced players. Pro-Grade Configuration at an incredible price. The TourTech TT-22M Electric Drum Kit is the top of Tourtech's range of affordable electric kits.
Featuring a full mesh head set up, a wide range of realistic drum sounds and pro-level functions, this kit still maintains the compact portability and super affordability that epitomises the TourTech drums range. Bundled with a sturdy drum stool, stereo headphones and a pair of drumsticks, the TourTech 22M bundle is a convenient, all-in-one package at an amazing price. Tourtech TT-22M Electronic Drum Kit Bundle Includes. 1 x Tourtech TT-22M Electric Drum Kit.
1 x AKG K72 Stereo Headphones. 1 x TourTech TT-DT32C Drum Stool. 1 x Pair Drum Sticks. Tourtech TT-22M Electronic Drum Kit Configuration. 1 x TT-22M Sound Module. 1 x Mesh Snare Pad. 3 x Mesh Tom Pad. 1 x Large Mesh Bass Drum Pad. 1 x Bass Drum Pedal. The main benefit of the TourTech TT-22M over the rest of the range is its full mesh head set up. Mesh heads provide a naturally more realistic feel compared to standard rubber heads. Offering a feel thats much closer to an acoustic drumhead, mesh heads offer a realistic and articulate playing response. Giving this kit an edge over the simpler pad kit options, you can enjoy a real rebound and increased stick feel on the TourTech TT22M.
All this serves to provide an electronic drum kit with a feel thats as close to an acoustic kit as possible. You can even tune the mesh heads to set your desired tension in order to achieve the feel you want.
If you like a bouncy, fast rebound feel crank the heads up tight or for a more relaxed, loose feel tune the heads low to work your hands harder. All of the mesh heads and cymbal pads on the TourTech 22M drum kit feature dual zone technology to offer more realistic sound variations. Offering the ability to have a wide range of sounds at your stick tips, you can use the centre of the mesh heads to achieve a robust drum sound and also use the rims to trigger different percussion options.
This means the TourTech TT22M provides a brilliantly creative set up that allows you to utilise the whole drum kit to achieve extremely expressive playing. In addition to the full mesh set up, the TourTech TT-22M also features dual zone cymbals to offer great dynamic variation.
For example, hitting the ride cymbal on the top of the pad will create a natural ride ping over a long sustain, but hitting the edge of the cymbal pad will result in a quick attacking and fast decaying burst of crash-like sound. Having the ability to use two cymbal sounds in one pad not only expands your range of options it also promotes natural playing techniques that youd develop on an acoustic kit. The dual zone cymbals of the TT-22M also have a choke function to provide a truly realistic playing response. The TourTech TT-22M lets you grab the cymbals to silence them just as you can with real acoustic cymbals. Often used for effect or to bring sound to an end at the conclusion of a song, choking the cymbals basically means grabbing them with your hand to make them quiet.
Having the ability to interact with the electronic cymbal pads in this way means youre truly replicating the way you would play an acoustic setup. Not only does this improve the playing experience, it also helps you to build upon your skills and allows you to incorporate new techniques into your playing. This electronic drum kit comes complete with the TourTech TT22M Sound Module to deliver a wide range of useable sounds to suit a variety of playing styles and music genres. The module is packed with over 458 top quality sounds, 26 complete preset drum kits and 15 user presets that you can edit and save yourself to create your own favourite drum kit setups. From big arena rock kits to tight hip-hop studio kits, the TourTech TT-22M offers a range of sounds to fulfil the most diverse of needs.
The TT-22M sound module also comes with 20 demo songs so that you can start practicing along to music straight away. The stand or rack system of the TourTech TT-22M is slightly larger than that of the TT-12 kit models to provide a more robust and durable setup. Despite being larger, the stand of the TT22M is still extremely compact and portable. Plus, to aid quick and easy setup, the main part of the ergonomic Fold-Out and Play rack is already built so that you can get going straight out of the box. Offering a robust build and a small footprint, this rack is ready for a long life of setting up, moving around and playing.
The module of the TourTech TT22M also features a range of effects to further enhance your drum sound. The TT-22M has two reverb settings to help create a sense of space to your drum sound for a more realistic, natural kit sound.
There is also a 3 band EQ section built-in to the sound module allowing you to tweak and edit the characteristics of the 458+ drum sounds. Perhaps you want your bass drum sound to have more low-end warmth, you can use the EQ to achieve that. Maybe you want your cymbals to have more sparkle, simple boost the high-end frequencies using the 3-band EQ to achieve it. Having the opportunity to edit and shape your drum sounds means that you can achieve a truly personalised kit sound to suit your preferences and needs.
The TT-22M sound module also features USB connectivity to accommodate studio quality stereo recording into your preferred computer recording software. Theres also MIDI connectivity included allowing you to trigger separate outboard devices, which opens up a whole new array of sound options.
A great way to expand your kit! Not only do you get an amazing top quality drum kit at an amazing price, this bundle also includes a drum stool, headphones and drum sticks! The TourTech DT32C Drum Throne is a reliable, super sturdy double braced drum stool that provides comfort and support to make sure you feel your best behind the kit.
Featuring a rugged double braced steel shaft and an anti-sinking lock screw, this Tourtech drum throne is height adjustable to accommodate a range of players and features a soft, padded round seat for comfort. Also included in this package is a set of AKG Headphones to ensure you can practice quietly without bothering your neighbours or family members. These headphones are incredibly light and have a padded headband along with comfortable ear cushions so you can wear them for longer and concentrate on your performance. And last but not least you even get a pair of quality drumsticks to make sure you can get drumming straight away! Offering pro-level features, top quality sounds and an expressive playing set up, the TourTech TT-22M is a great choice for any drummer who requires a full mesh kit with a solid rack system. From beginners who are looking for a cost-effective way to get going and music producers who need an easy way to record quality drums, through to seasoned players who want a compact kit for practice and performance, the TT22M is an amazing choice.
Featuring realistically responding dual zone mesh heads, chokeable dual zone cymbals and a huge variety of quality sounds, the TourTech 22M offers top level features at a super affordable price. Packed with over 458 sounds, reverb and EQ effects the TourTech TM22M sound module ensures you have a sound for every situation. Tourtech TT-22M Electronic Drum Kit Bundle Specifications.
TourTech TT22M Electric Drum Kit. Complete 8-Piece Electric Drum kit. Fold-Out and Play' Ergonomic Rack Stand. 128 x 64 character LCD display. 458 high quality percussion voices.
26 preset drum kits + 15 user-defined drum kits. Dual-Zone, round cymbal pads with "Choke" function.
10 tensionable mesh-head snare drum with Cross-stick and Rim-Shot function. Upright, mesh-head bass drum pad with bass drum pedal.
Aux In jack for MP3 Playback. Line output, Headphone Mini Jack output. USB interface (USB to device), MIDI IN/OUT.
Metronome: 3 band EQ, 3 ambience and 2 reverb settings. Adjustable height: in 5 steps from 50 to 63 cm / 19.7" to 24.8". Diameter: Round seat (32 cm/ 12.6). Construction: Steel shaft w/anti-sinking lock-screw. Weight: 3.1 Kg/ 6.8 lbs.
Max static load capacity: 330.69lb / 150kg. Precisely balanced response provides reference-monitor accuracy. Professional drivers 40mm drivers for extended 16Hz - 20kHz frequency response.
Over-ear design and lightweight construction for exceptional comfort. Self-adjusting headband ensures perfect fit. Professional build quality 3m (9.8) cable. 3.5mm (1/8") plug with 6.3mm (1/4") screw-on adapter. Rode NT1-A Condenser Microphone Package. Electro Harmonix Canyon Delay and Looper Pedal. Electro Harmonix SYNTH9 Synthesizer Machine.
Arturia BeatStep Pro USB MIDI Drum Sequencer. The item "Tourtech TT-22M Electronic Drum Kit Bundle" is in sale since Thursday, June 27, 2019.
This item is in the category "Musical Instruments\Percussion\Drums\Drum Kits". The seller is "pmt-online" and is located in Speke, Liverpool. This item can be shipped to United Kingdom.
Type: Electronic Drum Kits
MPN: TOURTECH
Brand: TT-22M
Skill Level: Beginner